The lock on your garage door helps to secure your home and property. In fact, it's one of the simplest garage safety features you can install to help prevent a forced entry.
But like garage doors, all garage door locks are not created equal. For example, some homeowners prefer to lock their garage from the inside using a lock bar, while others prefer a lock located on the outside of the garage door.
With the number of choices available, it can be hard to choose the right garage door lock for your needs. So, the experts at Precision Garage Door Service want to help. We'll review some of the most common types of garage door locks and explain the advantages and disadvantages of each.
Common Types of Garage Door Locks
Whether you want to upgrade your garage door lock or install an additional one for extra security, you have several choices. It helps to know exactly how each type of lock works with the rest of your garage door parts and what different types work best for your needs.
Below are the most common lock types, and some pros and cons for each.
T-handle Locks
If you're looking for an outside garage door lock, a T-handle lock is one of the most common. While some T-handles lock from the inside, the lock itself sits on the exterior of the garage door. T-handle locks are preferred for their simplicity, because you can lock and unlock it with a key.
Advantages: Easy to install, simple to operate, can be used with other lock types.
Disadvantages: Uses a physical key, which can be misplaced. Easier to break than other sturdier locks.
Garage Door Lock Bar
This lock type is hidden from outside view. Garage door lock bars secure your garage door by stopping it from being raised. To operate one, you slide the lock's metal bar into an opening on the garage door track. This added measure of security is typically used in combination with another lock type.
Advantages: Adds an extra layer of security, and is low maintenance.
Disadvantages: Needs to be used with another lock type for maximum security.
Digital Locks
Afraid you might lose a key? Digital locks use a keypad that lets the user enter a code or password to lock and unlock the garage door.
Advantages: No physical key, easy installation.
Disadvantages: Requires batteries or a power supply to operate, usually more expensive to purchase.
Smart Locks
Smart locks require the use of a device (typically a phone, tablet, or iPad) to open and close your garage door. The fact that we have our phone with us throughout the day makes this a convenient option. Smart locks usually operate via a phone app but can also use facial recognition or fingerprint technology to access the lock.
Advantages: Convenience. Allows you to monitor your garage while you're away from home. Easy installation and setup.
Disadvantages: Requires batteries or a power supply to operate, needs an internet connection to function.Usually more expensive to purchase.
Padlocks
Padlocks are not a popular choice for large garage doors, but they can function well for smaller doors or certain areas in your garage. They work by attaching to a handle or latch and typically use a key or combination.
Advantages: Portable, easy to take on and off. Easy to use.
Disadvantages: Doesn't work well for heavier, larger garage doors.
Deadbolts
Unlike padlocks, deadbolts tend to be built into the garage door. They operate using a bolt that is inserted into the doorframe when the lock is engaged.
Advantages: Extremely secure and easy to use.
Disadvantages: Can be more complicated to install. Requires a physical key, which can be lost or stolen.
Let Us Install Your Next Garage Door Lock
A garage door lock can add another layer of security to your home to help protect you, your family, and property. If you're still unsure about which type of lock works best for you, give us a call. Whether you choose to install a garage door lock bar or another common lock, the garage door experts at Precision garage Door can help. We will review your options and help you choose the garage door lock that works best for you. To get started on your garage door lock installation, give us a call or find a Precision Garage Door Service professional near you.
Our Average Rating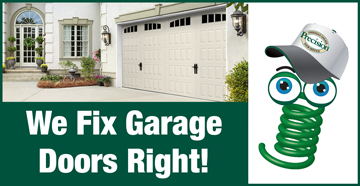 ---