When it comes to new garage door installation, expertise and experience are two of the most important factors to ensure your garage door installation goes smoothly. That's why the professionals at Precision Garage Door Service have designed our installation process to be as stress-free as possible.
We make your installation pleasant and easy by providing you with the following:
A free estimate before any work begins.
An accurate estimate of the installation time.
'On the way' notifications.
Greeting you in a courteous manner.
A thorough check of the work area to ensure it has been properly cleaned.
Removal and disposal of your old garage door.
Testing your new garage door to ensure it works properly.
Garage door installation is an intricate job that requires careful planning and execution. We have the knowledge, equipment, and training to do all the heavy lifting so you can have a worry-free experience. Don't hesitate to reach out to the Precision Garage Door professionals for garage door installation near you.
Choosing the Right Garage Door for Your Location
Before the installation process starts, it's important to select a door that best suits your needs so you are satisfied once the installation is complete. Our goal is to ensure that you are completely satisfied with your garage door installation from start to finish.
Popular garage door types include steel, vinyl, full-view aluminum, wood, and wood composite. However, not all garage doors are created equal.
The type of climate that your garage door is exposed to will affect its performance. Consider these common weather conditions and how they can affect your garage door:
Extreme hot weather: If you're in a location that experiences high temperatures regularly, a wood or vinyl garage door may not be the best option. Wood has a tendency to absorb moisture in the air, especially in a high humidity climate. This can cause the wood to expand, leading to cracks and breaks. Vinyl can change its shape in high temperatures, which can detract from its pristine look. Under these conditions, a steel or aluminum door is a better option.
Extreme cold weather: Wood and aluminum garage doors do not perform well in extremely cold temperatures either. Wood and aluminum can become frail when exposed to consistently low temps over an extended period of time. Steel, vinyl, and wood composite doors will fare much better under such conditions..
Rain and/or snow: If you live in an area that experiences wet weather, the excess moisture is not ideal for wood or aluminum doors. An aluminum door can rust, and wood can rot. A steel, vinyl, or wood composite door is a better way to go for this type of environment.
If needed, our garage door professionals can help you choose the right door for your area — no matter the climate.
Why Hire a Professional for Your Garage Door Installation?
Installing a garage door is a serious endeavor. It presents challenges and risks and should always be performed by experienced technicians. A garage door professional will take the proper safety precautions and verify the following:
Ensure springs and cables properly support the weight of the door.
Confirm the opener is installed correctly to avoid undue strain on your garage door's system.
Ensure door panels are the appropriate size.
Confirm each door panel has the appropriate type and number of hinges.
Confirm correct placement of door panel hinges.
Inspect door tracks for damage.
Check for proper alignment of safety sensors.
The garage door selected is appropriate for your needs/climate.
As you can see, there are a lot of things that go into proper garage door installation. This is why it's crucial to hire an experienced technician who understands these on-the-job risks:
Garage doors are weighty. If not installed correctly, they can unexpectedly fall on objects or people.
Torsion springs are tightly wound and have the potential to cause serious injury if not handled and installed carefully.
Safety sensors prevent your garage door from closing when objects are underneath it. If not properly installed, your door could smash an object or injure someone in its path.
These are just some of the reasons why you need a qualified, reputable, and knowledgeable garage door technician for your garage door installation to ensure you and your family are safe.
How to Prepare for Your Garage Door Installation
Having a new garage door installed is an exciting process. The exterior of your home will have a new look, which will enhance the curb appeal of your home..
In order to ensure that the installation process goes smoothly, we recommend taking the following steps before your installation day:
Remove obstacles from the surrounding area: Make sure that your Precision Garage Door technician has a clear path to install your door. Too many objects around the work area can delay the installation process.
Ensure the electrical wiring is functional: If you have experienced any electrical issues related to the wiring in your garage, call an electrician prior to installation to have it examined. This will ensure your new garage door works properly.
Make sure that you are available: Our garage door technicians will need to confirm you are satisfied with your installation. In addition, we will test the operation of your door and answer any questions you have.
How We Make Sure Your Installation is Done Right
We offer the following conveniences to make sure that you are content with the installation and functionality of your new garage door:
Our work doesn't affect your warranty: All new doors are backed by the manufacturer's warranty. Our installation doesn't void this in any way.
We come prepared: Our trucks are stocked with the right professional tools and materials to ensure that your installation is a success.
We do the dirty work: Our garage door technicians handle all door removals and cleanup so that you can enjoy your new installation without the hassle of clutter and debris.
We test your door before we leave: Once the installation is complete, we test your new door to ensure it's working properly.
We put you in the know: Before we leave, we answer any questions and walk you through the operations of your new garage door.
Garage Door Installation Near You
We know that installing a new garage door is a big deal. It requires careful planning and flawless execution to ensure the safety of the installer and anyone who will use the door in the future. This is why choosing the right garage door installation near you is so important. It's also why you can count on the experienced pros at Precision Garage Door Service to get the job done right and safely. We offer more than prompt and reliable service. We offer the peace of mind that comes with knowing you made the right choice for your garage door installation. To get started, give us a call or schedule service online today!
Our Average Rating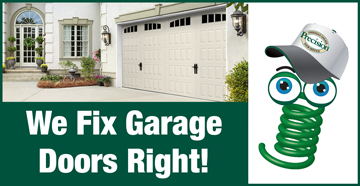 ---