Why Garage Door Replacement Matters
Your garage door is an essential component of protecting and accessing your home. When it malfunctions, your convenience and safety are both at stake.
If you're wondering whether you should replace your garage door and what the benefits would be, you've come to the right place! Learn below if a garage door replacement is the next best step for you.
4 Reasons to Consider a Garage Door Replacement
Just like any other part of your home, your garage door may require replacement over time. Below are four of the most common reasons for needing to replace a garage door.
1. Damaged Garage Door
A damaged garage door can be more than just an eyesore. It can also pose increased safety hazards including:
Risk of your door suddenly falling onto your property, vehicle, or a person
Greater chance of electrical shock
Unsecured access to your home if your garage door becomes stuck in an open position
Although repair may sometimes be more cost effective, it's not always possible if the damage to your door is severe or the door is old. In these instances, replacement may be necessary.
If you notice that your garage door is lopsided, dented, or otherwise compromised, don't wait until the damage compounds to have it replaced.
2. Outdated Garage Door
You may have an outdated garage door that needs to be replaced if you're encountering problems such as these:
Temperature discomforts and higher energy bills because of poor insulation
Difficult accessibility due to lack of modern features like automatic openers
Lackluster exterior appearance from wear and tear
Decreased home security due to lessened durability
If your garage door is outdated, consider immediate replacement to increase your home's comfort, safety, and appeal.
3. Desire to Improve Home Value
You may want to increase your home's value by updating your garage door for aesthetic reasons.
Making simple changes such as adding windows or a different color to your garage door could be the factor that takes your home's facade from good to great.
4. Desire to Enhance Security
If home security is a major concern of yours, it's time to evaluate whether your garage door needs to be replaced. Newer garage doors can be enhanced to include extra locks or modern features such as smart technology. High-grade materials like steel or wood can also serve as added security measures since they are strong and not easily dented.
Benefits of Replacing Your Garage Door
Besides the obvious perk of having a new-looking door, replacing your garage door has several other advantages such as:
Less maintenance: Older garage doors may need to be maintained more frequently than a newer garage door, leading to more money and time spent.
Ability to add safety and convenience features: Newer doors make controlling your garage door simpler than ever, such as from your phone.
Reduced noise: A rickety garage door is an annoying one. After a garage door replacement, opening and closing your door is likely to be less noisy (and more pleasing to your neighbors' ears).
More customization options: Add windows, decorative hinges, a wood-appearing overlay, or other enhancements when you choose to customize your new garage door.
FAQs about Garage Door Replacement
Can I wait to have my garage door replaced?
The choice to have your garage door replaced either now or in the future depends on the reason for replacement.
If you are getting a new garage door solely for aesthetic reasons such as a color change, it may be safe to wait. However, if your door is damaged, malfunctioning, or more than 10 years old, we recommend replacing your door sooner rather than later.
A compromised garage door can weaken the structural integrity of your entire garage door's system and ultimately lead to an increased risk of injury, theft, or property damage.
Can I replace my garage door myself or do I need to hire professionals?
Like most home improvement projects, it's possible to do this job yourself, but we do not recommend it. Garage door replacement can be tricky to execute correctly if you're not an experienced professional — not to mention dangerous. We recommend erring on the side of caution and having your door installed by a garage door service professional.
How long does a garage door usually last?
A garage door that has been properly maintained can last anywhere from 15 to 30 years.
What are my options for garage door materials?
We mainly source garage doors that are steel due to their durability and affordability. We also offer aluminum or "full-view" doors that are made of glass panels and aluminum framing. Some locations offer wood doors as well. Here's a little about each material type:
Steel garage doors: Not easily dented, low-maintenance
Aluminum garage doors: Add a clean modern aesthetic, let in natural light
Wood garage doors: Premium quality, add elegance
Do you need more information on what's available in your area? Don't hesitate to contact our service professionals today.
Trust Our Pros for Your Garage Door Replacement
Don't waste another second with an older or damaged garage door. Let the professionals at Precision Garage Door Service® help enhance your security and curb appeal by replacing your garage door. Give us a call at(877) 301-7474 or find the location nearest you to get started.
Our Average Rating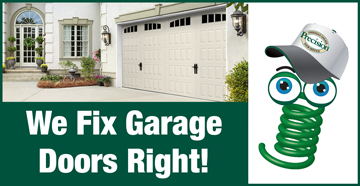 ---