Emergency Garage Door Repair
Your garage door won't exactly send a memo before it gives out. That's why knowing what to do and whom to call for help is important when it happens.
When your garage door fails, Precision's 24-hour emergency garage door repair service will get you and your door back on track as soon as possible. When you call, we immediately set up a time to come out. It's that simple.
Common Issues That Require Emergency Garage Door Repair
At some point, you may wonder what problems warrant using an emergency garage door repair service. You may be surprised to learn that quite a few issues fall into the "emergency" category.
We care about potential risk as much as we care about obvious signs of wear and tear. Even if your garage door doesn't appear to be in distress or need of repair, there are instances when your safest bet is to schedule service as soon as possible — even if it's on a holiday or weekend.
Below are examples of damage that may necessitate an emergency call.
Bent or Dented Door Panels
While a dent may seem like minor damage, it can cause major problems. One of the biggest risks is your garage door becoming stuck while open. This poses danger from the outdoor elements and even thieves.
Damaged Springs
Your springs are responsible for balancing the weight of your garage door. If a spring is broken or damaged, your door could crash to the ground without warning. Any objects or people in its way would be subject to harm.
Deformed Tracks or Cables
The tracks and cables in your garage door system help guide the door's movement. When they become damaged, your garage door is at risk of suddenly falling.
Broken Opener
There is nothing more frustrating and inconvenient than having to use your garage's emergency release just to exit. If your opener is no longer working, it's not only an inconvenience but a safety concern as well. It's essential that you're able to enter and leave your house through your garage whenever you need to.
The Dangers of Do-It-Yourself Emergency Garage Door Repair
In a pinch, you may be tempted to try to fix your garage door issues yourself. Here are a few reasons why our garage door experts advise against this approach:
Garage doors are heavy and can cause serious harm if they fall unexpectedly during a repair.
Garage door repair often requires special tools that most homeowners do not have available.
Garage doors under warranty should be serviced by a licensed professional who provided the warranty. If you attempt any repairs yourself, you could void your warranty.
Garage door professionals are often familiar with code compliance related to your garage door. They will ensure that your garage door is up to code.
How We Provide Garage Door Repair Assistance During An Emergency
The garage door professionals at Precision Garage Door are always ready to assist you in the event of an emergency. Here's how we make ourselves available to you when you need us the most:
24-hour service: Call us, and we answer. You'll always have the ability to speak directly with one of our customer service professionals, no matter the time of day or night.
Evening, early morning, and weekend appointments available: Your convenience and safety is our priority. So,we work with your schedule, to meet your emergency repair needs as quickly as possible.
Same-day service: Our trucks are equipped with all the parts needed to perform same-day repairs in most cases.
Why Choose Precision Garage Door for Emergency Garage Door Repair?
The garage door professionals at Precision Garage Door are always ready to assist you in the event of an emergency. Here's how we make ourselves available to you when you need us the most:
Industry-best warranty: The parts we use are backed by a 7–10 year warranty to ensure you get the most value and years of trouble-free use from your garage door.
Experienced garage door professionals: Not only do our technicians train for months at our state-of-the-art facility, but we also perform over 1,000 garage door repairs a day. When you call Precision Garage Door, you are getting highly trained and experienced professionals.
25-point inspection: We perform a thorough inspection to identify the exact problem and provide the appropriate solution.
Uniformed professionals: You can count on our garage door technicians to be in uniform so you can easily identify us when we arrive at your home.
No hidden or extra charges: Emergencies are stressful enough without hidden charges or additional costs. You'll know exactly what you're paying up front, before we start any work. And no, we do not believe in charging extra for performing repairs in an emergency situation.
Better-than-new parts: Our high-caliber Precision Garage Door parts are more advanced than your garage door's original manufacturer parts. They last longer and make operating your door a quieter, smoother experience.
Removal and disposal of all parts: We take care of the cleanup after your emergency garage door repair is complete to ensure your repair experience is as stress-free as possible.
Garage door test: After repairs, our garage door technician will test your garage door in front of you to ensure you are comfortable with the improved operation of your door.
Call Precision for Emergency Garage Door Repair
A garage door emergency is more than just an inconvenience, it can pose a serious safety issue for you and your family. Don't let your garage door emergency linger. Keep yourself and those around you safe by calling Precision Garage Door Service for emergency garage door repair. Just give us a call or find a Precision Garage Door Service professional near you, and get reliable repair service, when you need it most.
Our Average Rating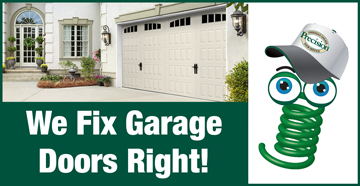 ---