Choosing a garage door is one of the most important decisions that you can make for your home. Your garage door affects your home's:
Security
Value
Exterior appearance
Energy bills
Whether you're aiming for increased garage door insulation, enhanced curb appeal, or something in between, the service professionals at Precision Garage Door Service® can help.
As you navigate choosing the right garage door for your home, use our guide below to help you make an informed decision based on price, style, and other options available.
Garage Door Pricing, Styles, and Options
Customers shopping online for garage doors have told us they want to see information related to pricing, options that affect price, pictures of doors, and the ability to design a garage door This page has been designed to accomplish this, so please send us feedback if there is a way we can improve.
Garage Door Pricing
Searching the web for the price of a garage door can make you very frustrated. There are two reasons why accurate garage door prices are usually not listed on the web. Let us explain why they are so hard to find and how we can help.
1: The "bait and switch" trick. This can occur when you see a low price online (bait). When you try to take advantage of the low price offer by contacting the provider, the service ends up not matching the advertised price. Then, a higher priced garage door is recommended (switch), leaving you feeling aggravated and deceived.
2: Too many personalization options: There are many factors that create a situation where even a ball park price is difficult to provide. Some of these factors include the number of manufacturers, panels, sizes, window options, wind load requirements, decorative hardware options, and insulation options and materials. It would require a full-time team to maintain an up-to-date web page with an accurate price matrix, which isn't feasible for most companies.
Here's how we can help.
Take advantage of our free garage door designer tool that lets you customize everything from your garage door's color to its handles.
Contact the pros at Precision for an upfront, custom garage door price as part of our free estimate. We'll take all of your preferences into account, along with customization options that'll complement your home, to provide you with a quote that's firm and fair.
Continue reading our guide for design ideas and insulation options.
Garage Door Styles
If you're feeling overwhelmed by the number of style choices that you have when it comes to your garage door, let us help make your decision easier. Below we explain the types of style choices you have in three steps.
Start by Choosing Your Garage Door Material
We recommend choosing steel for your garage door's material. There's a reason that steel is the most popular and least expensive material used in garage doors today. Steel provides durability and versatility without the high price tag.
However, the grade of steel and the style of panel can affect the price of your garage door. Let's take a look at an example.

These three panels are all steel and manufactured by Amarr. If you narrowed down your choices to just these three doors, here's what you'd need to consider in terms of price and aesthetic:
The raised panel design on the left is the least expensive. This is typically the style you see advertised with a low price due to its traditional feel.
A slightly modern take on a traditional look, the garage door in the middle costs a little more for the increase in style elements.
The garage door on the right costs more than the first two because the grade of steel used in this panel is a much higher quality. In addition, the three horizontal sections provide a more authentic carriage house look.

In this additional example, the garage doors represent a significant portion of the home's exterior facade. When this is the case, finding the garage door that matches your home is vital to increasing your home's curb appeal.. Look at the difference finding the right garage door made on this home.
Add Windows to Your Garage Door
Windows
Windows allow light into your garage and can significantly enhance the look of your space. Windows tend to add about 15% or 20% to the price of the door. If you're a fan of natural light, new garage door windows may be worth the extra amount.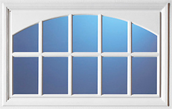 Choose a Color for Your Garage Door
Color
Most color options are included in the price of the door. However, some steel doors have an available wood grain texture that has a slight premium. This option, most commonly referred to as faux wood garage doors, gives homeowners a way to capture the look of wood with the "no-maintenance" of steel. Other popular color options include black and white.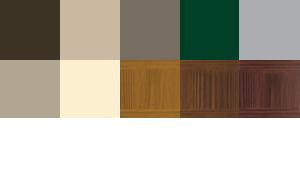 Incorporate Decorative Hardware
Decorative Hardware
Handles, hinges, knobs, and straps contribute slightly to the cost of a garage door. You'll want to consider these options when buying a carriage style door in wood or steel to provide more authenticity to the look.

Other Garage Door Options
In addition to considering the look of your garage door, you'll also want to consider its functionality. One of the most important purposes that your garage door will serve is to help insulate your home.
Insulating Your Garage Door
Generally speaking, the higher a garage door's R-value is, the more you'll pay for the door. A higher R-value rating signifies more insulation. For example, a wood door will typically have of an R-value of 8-10, while a steel door can range from 5 to 20, which means that some steel doors insulate better than wood ones..
Insulated steel garage doors are constructed in single, double, and triple layers. Single-layer doors are the most economical, while triple-layer doors are the sturdiest, best constructed doors.
Here is what's available in our line. As you proceed from single- to triple- layer, the quality of construction, durability, and insulation all increase.
1. Precision 100 (Single-layer):
The Precision 100 is a single-layer door that provides value and durability.
One-layer: steel
Durable, reliable, low-maintenance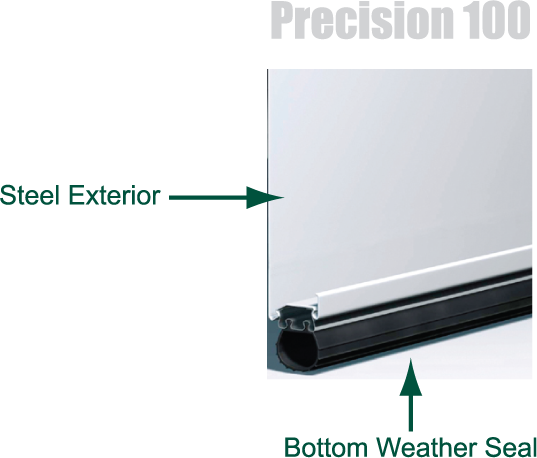 2. Precision 200 (Double-layer):
The Precision 200 is a double-layer door. The heavy-duty steel layer and vinyl-coated polystyrene insulation provide increased thermal properties and quieter operation.
Two layers: steel + insulation
Durable, reliable, low-maintenance
Environmentally safe polystyrene thermal insulation with vinyl backing
Energy-efficient and quiet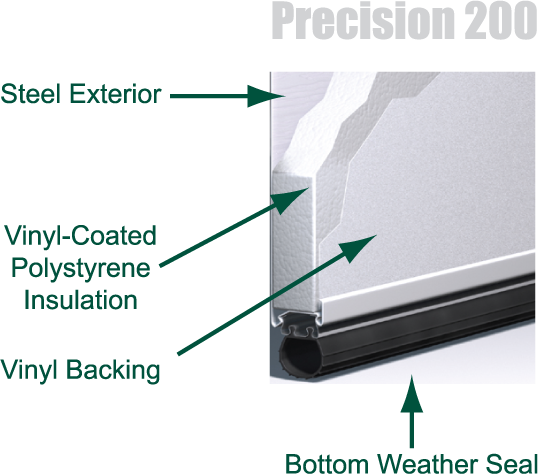 Precision 300 (Triple-layer):
The Precision 300 is a triple-layer door consisting of a heavy-duty steel exterior, polystyrene or polyurethane insulation, and a layer of interior steel. It's our strongest and most energy-efficient garage door, providing superior thermal properties.
Three layers: steel + insulation + steel
Durable, reliable, low-maintenance
Environmentally safe polystyrene or polyurethane thermal insulation with steel backing
Superior energy-efficiency and ultra quiet operation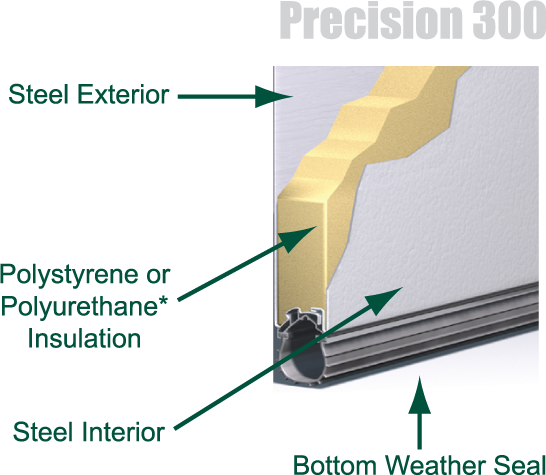 Picking the Right Size Garage Door
Size
The size of a garage door has a direct impact on its price, but in order to get a firm price estimate on a new garage door, your space needs to be measured accurately. Precision offers this service at no charge! The only way to get a real price quote is to have your space (not the door) professionally measured; otherwise, every price is just a guess.
Choosing Your Garage Door Based on Wind Load & Impact Resistance
Wind Load & Impact Resistance
Many areas have local government regulations for wind load, particularly coastal areas. Florida has the strictest requirements because they know what many do not:
Strong garage doors can help prevent fierce winds from causing damage to your home. They can even help support your roof in extreme weather conditions such as hurricanes.
If you live in an area that experiences hurricanes, typhoons, or tornadoes, you may want to consider wind load and impact resistance when choosing a garage door. Fortunately, in most cases, manufacturer's now include these features in each of their lines, so you will not need to sacrifice style for safety!
Contact Precision for a Free Estimate
You no longer have to wonder about what your dream garage door would cost or look like! Call the service professionals at Precision Garage Door Service® at (877) 301-7474 or find the location nearest you to get started on making your vision a reality.
Our Average Rating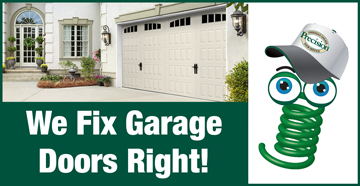 ---