A garage door tune up is regular maintenance that a skilled professional performs on your garage door. Even if your garage door is working optimally, we recommend getting a tune up once a year.
Having your garage door serviced every year has several benefits that include:
Catching any malfunctions early before they progress
Ensuring that your garage door is operating safely
Prolonging the life of your garage door
The technicians at Precision offer garage door tune-up services to ensure that you're reaping the benefits of a quality garage door.
What a Garage Door Tune Up Entails
When your Precision garage door technician arrives at your home, they will perform a thorough 25-point inspection. They'll check the parts in your garage system such as the springs, cables, opener, and door.
Below are just some of the functions that our garage door professionals are trained and experienced in checking:
We make sure that your garage door is properly balanced.
We lubricate any necessary parts in your garage system to help them run more efficiently.
We check the motor in your garage door opener to ensure that it's still running strong.
We test your safety sensors to see if they are correctly aligned.
We examine the locks on your garage door to make sure they're working properly.
Your garage door technician can make any needed garage door repair or replacement — more often than not in the same day!
When It's Time for a Garage Door Tune Up
Although our experts recommend routine, once-a-year garage door tune ups, sometimes there are signs that you may be in need of one much sooner.
If you're experiencing any of the following, contact your local Precision location for a tune up. Chances are, you'll end up saving money from having to replace parts down the road.
1. You hear weird noises when you operate your garage door
If you hear unusual grinding or screeching noises, the parts in your garage door's system could need lubrication or tightening. There could also be debris along the track that's causing the noise.
2. Your garage door takes forever to close or open
This is usually attributed to a faulty component. Your Precision garage door technician will examine your spring, garage door opener, and any other parts that may be the culprit.
3. Your garage door still closes despite there being objects in its path
This is a serious safety issue that's likely caused by defective sensors. The sensors in your garage door tell it when there is an object in its way to prevent crushing the object. If you're experiencing this issue, we recommend you call a garage door technician immediately.
4. You've noticed that your garage door hangs unevenly
The springs in your garage door are responsible for balancing its weight so that your door opens and closes smoothly. If you notice that your door's weight is not evenly balanced, your spring could need repair or replacement.
5. You've spotted rust on one or more of your garage door parts
Rust is a sign that the parts in your garage door system need lubrication. It could also mean that those particular parts need replacement.
6. You can't seem to get the garage door to stay open or closed
Any number of issues could be causing this, but the most common are a malfunctioning sensor or a faulty garage door opener. If your door is staying open, the sensor could be falsely indicating that there is an object underneath the door. If the door won't open at all, you may be dealing with a defective garage door opener.
Our Average Rating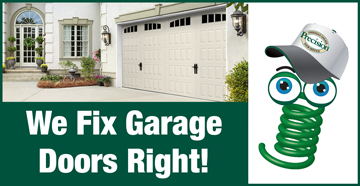 ---