Garage Door Parts
The condition of your garage door's parts can mean the difference between a well-functioning door and a malfunctioning one.
That's why our technicians don't use ordinary parts to repair your door. Instead, we equip your garage door with parts designed to help it function better than before.
We'll Make Your Garage Door Function Better Than New
The parts that came with your garage door may make your door work, but in most cases, our parts will improve your door's functionality.
When Precision Garage Door Service® comes out to repair your door, we use parts that are superior to what the door manufacturer originally provided in most cases. Depending on the replacement part, that could mean anything from smoother door operation to a quieter experience when opening and closing your door.
Choose Precision parts and your door will perform better and sound quieter than ever. For a garage door with improved functionality, consider some of our quality parts below.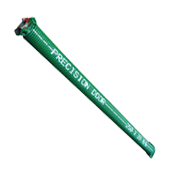 Heavy-duty High Cycle Springs
If you're worried about your garage door springs wearing out or rusting, consider our long-lasting, heavy-duty springs. Powder coated so that they move without much friction, they can also make your garage door system less noisy.
Much longer lifespan than standard springs have
Up to 64,000 cycles / 3 times that of standard springs
Powder coated (Precision Garage Door Service proprietary)
Engineer tested / quality confirmed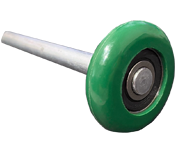 Ultraquiet Rollers
Your garage door rollers help ensure the smooth operation of your garage door. Our technicians install rollers that have enough ball bearings to handle heavy loads. In addition, our roller stems are coated with zinc to protect against rust or corrosion.
Nylon tires for ultraquiet operation
Sealed with 13 ball bearings
Zinc-plated stem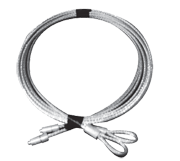 High Quality Torsion Cables
Our torsion cables are strong enough to handle even heavy garage door materials such as wood. Having a cable that's strong enough to accommodate your door's weight is an essential part of maintaining your garage door system.
Much longer lifespan than standard cables have
7 x 19 strands: 7 strands with 19 wires per strand
Heavy-duty strands nearly three times stronger than standard cables are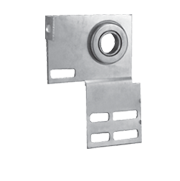 Sturdy Bearing Plates
Our durable bearing plates ensure that your garage door's springs move with ease, helping to make your door open and close with fluidity.
Bright zinc-plated
12-gauge steel
Heavy duty with premium bearings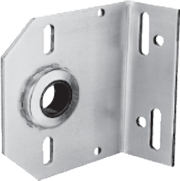 Stabilizing Center Bearing Plate
Ensure that your garage door is always balanced properly with our durable center bearing plate.
Counter balance system with end bearing and tube/shaft center
Heavy duty with premium bearings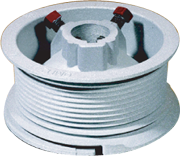 Powerful Drums
We install drums that allow your cable to properly balance the weight of your garage door.
Heavy-duty 12" cable drums
Rated lifting weight per drum is 375 pounds, totaling 750 pounds of lifting weight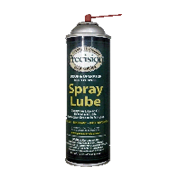 Garage Door Lubricant
Expect a quiet, smoothly operating garage door for many years to come when you use our garage door spray lubricant.
Specifically formulated for garage door lubrication
Thin hose nozzle for lubricating hard-to-reach parts
Let Us Provide You with Quality Garage Door Parts
For garage door parts and part installation service that you can trust, call the experts at Precision Garage Door Service. We make your door function like new without the new-door price. Give our experts a call at 877-301-7474 or find the location nearest you for our high-quality parts and installation service.
Our Average Rating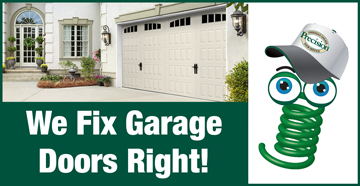 ---