What Type of Garage Door Should I Buy?
Your choice in garage doors matters. That's why we've developed a guide to help you make the right decision based on your lifestyle.
Whether your reason for upgrading your garage door is for aesthetics, durability, or another important factor, the garage door specialists at Precision are here to offer expert advice.
5 Popular Types of Garage Doors
Check out the five most popular types of garage doors to get an idea of which one may be the best fit for you.
1. Steel Garage Doors
Steel garage doors are the most popular. They are low-maintenance, durable, and have the lowest cost of the five mentioned in this guide. They are often available in many colors and styles with tons of window options. Best of all, they are excellent insulators that can help block out heat in the summer and cold air in the winter. Most garage doors sold today are steel.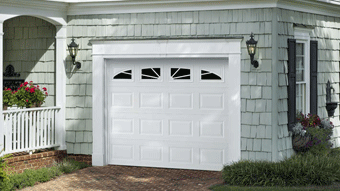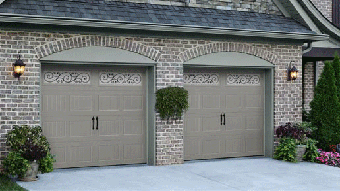 Although they are not as customizable as other choices, there are still a variety of design options available for steel garage doors.
2. Wood Garage Doors
Wood garage doors are often made from exotic woods like hemlock and mahogany. These are perfect for high-end homes, especially when the exterior facade is stone or stucco. They require regular maintenance but are well worth the effort for those looking to add warmth to their home's exterior.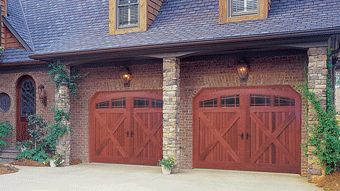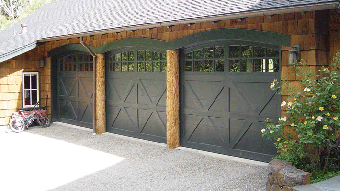 Wood garage doors are not only pleasing to the eye but also highly customizable.
3. Wood Composite Garage Doors
Wood composite is used when you want the look of wood but without the maintenance. Wood composite doors do not come painted, so they are often purchased when a custom color is desired. They are typically less expensive than wood doors.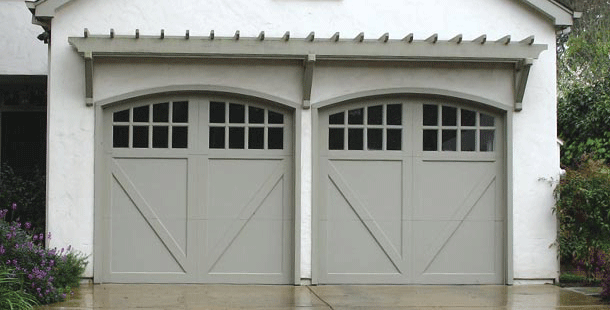 Wood composite doors are praised for their flexibility when it comes to color choices and styles.
4. Vinyl Garage Doors
Vinyl doors are great for seaside locations as they will not rust and are extremely durable. They tend to cost a little more than steel but less than wood.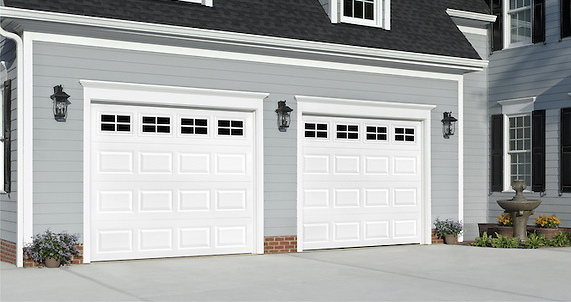 The durability of vinyl doors makes them an ideal option for locations with garages that experience harsh weather conditions.
5. Full View Aluminum Garage Doors
Rightfully named, full view aluminum doors offer a clear view into your garage. They are considered a higher end option and look great on a modern-style home.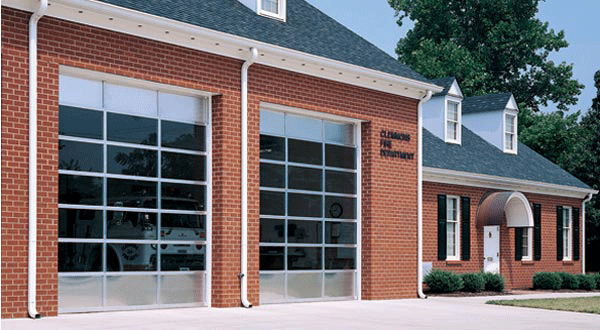 Full view aluminum garage doors offer plenty of natural light, making them a popular option.
So Which Garage Doors are Best to Buy?
The type of garage door that you choose mostly depends on personal preference. To make it easier for you to select the best type of garage door for your needs, you should consider five factors: cost, maintenance, durability, aesthetics, and insulation.
Check out the comparison chart below along with summaries for each factor to help narrow down your choice.
Cost
Is the high cost of full aluminum doors outside of your budget? If so, you may want to take a look at steel or vinyl garage doors. Alternatively, if you desire the look of wood doors, wood composite doors are a cost-effective way to achieve a similar style.
In our chart, cost is listed as either low ($), medium ($$), or high ($$$) based on the five material types that are being analyzed.
Keep in mind that size, installation fees, and other factors can also influence the final cost of your garage door.
Maintenance
Wood and full view aluminum doors rank higher in the area of maintenance due to their need for consistent upkeep.
Wood needs to be painted or stained every few years, and inspected frequently to ensure it's not rotting. Full view aluminum doors have glass panels that need to be cleaned.
Lower maintenance options include steel doors, wood composite doors, and vinyl doors.
Durability
If durability is what you value most, consider steel, wood, or vinyl garage doors. Wood doors in particular are heavier and more resistant to damage. But if you live in a wet climate, wood may not be the ideal choice. Steel and vinyl doors generally hold up to harsher weather much better, but they don't have the same warm and elegant feel as wood.
Aesthetic
What look do you want the outside of your home to embody? Steel and vinyl doors are popular choices, and therefore create a more traditional look.
Wood and wood composite doors have a cozy yet stylish feel.
Full view aluminum doors look very high-end and are typically used to achieve a modern, sleek aesthetic.
Energy Efficiency
Looking for the option that will save you the most money on your energy bill every month? While you can add insulation to all five garage door types, wood composite doors are the natural insulators. They're made with environmentally friendly materials that happen to insulate well.
| Garage Door Type | Cost | Maintenance | Durability | Aesthetic | Energy Efficiency |
| --- | --- | --- | --- | --- | --- |
| Steel | $ | Low | High | Traditional | Medium insulation |
| Wood | $$$ | High | High | Warm | Medium insulation |
| Wood composite | $$ | Low | Medium | Warm | High insulation |
| Vinyl | $ | Low | High | Traditional | Medium insulation |
| Full view aluminum | $$$ | Medium | Low | High-end | Low insulation |
Call the Experts at Precision for Superior Garage Door Service
In the market for a new type of garage door? Give our garage door experts a call at (877) 301-7474. And while you're at it, try our garage door designer tool to design a garage door suited to your tastes and preferences.
Our Average Rating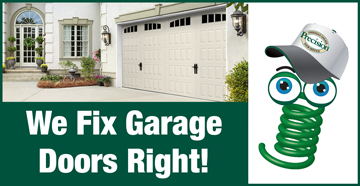 ---