What is causing my garage door to be jammed?
There are five different reasons that can cause your garage door to be jammed. Here are the five different garage door items you should inspect that could be triggering your jammed garage door and their possible fixes.
1. Lodged Garage Door Track

Your jammed garage door can be caused by something as simple as an obstruction in the track. Check to see if anything (a shovel, broom, etc) fell and is now stuck in the track that is causing it to be lodged. This can be a quick fix by identifying the object and then removing it.

---

2. Garage Door Locked

Surprisingly, your garage door just being locked can be causing your problem. Some garage doors have a "full lock" system which enables you, or anybody, to lock your garage door from the outside by only turning the handle. This could mean that anyone in your driveway (children, bystanders) could have turned your handle and mistakenly locked the garage door without you being aware of it. This is an easy fix by realizing this problem and then unlocking your garage door. rong.

---

3. Broken Garage Door Springs

Your springs may be broken. There are two different types of springs. If your garage door springs are located horizontally at the top of your garage door then it is called a torsion spring. You should check for a gap in between the springs to indicate if they are broken. If your springs are located at either side of your garage door, they are called extension springs. Look to see if a piece of them is hanging on the side of your garage door to indicate if those are broken. If your garage door springs are broken then replacing them is a dangerous process if you have never done it before so you should seek a professional to repair or replace them.

---

5. Garage Door is Off Track

If this is the problem then you will be able to tell by seeing if your garage door rollers are literally off track. If your garage door panels are not damaged, then you do not need to replace your door. However, the rollers do need to be put back on the track which should be done by a professional. If you are looking for a garage door company that specializes in Garage Doors, Garage Door Repair, or Garage Door Openers, or are just looking for more information, please visit our website at precisiondoor.net. Remember, "We Fix Garage Doors Right"™.
Our Average Rating
With
69422

Reviews
5 Star

(95.5%)
4 Star

(2.1%)
3 Star

(0.7%)
2 Star

(0.6%)
1 Star

(1.2%)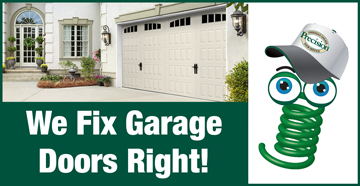 ---